The Best

Filmmaking

Institute In Mumbai,India

Welcome to Placing Dreams, where creativity and passion converge. We are the ranked Best Acting Institute in India by Business Standard and Mid Day, as well as the Best Acting School in Mumbai according to Outlook and Newsx. Our commitment is to nurture aspiring filmmakers, Actors  cinematographers, screenwriters, and all those who dream of making their mark in the world of cinema.

Unleash Your Talent

in the Film Industry

PlacingDreams, the best film institute in Mumbai as recognized by India Today, welcomes you to embark on a transformative journey in the realm of filmmaking. With our industry-recognized programs and experienced faculty, we provide an exceptional platform to nurture your creative talents. Ranked third best filmmaking institute by Business Standard and film direction institute by Mid Day, we are committed to guiding you towards a successful career in the captivating world of cinema.
Ranked Best Acting Institute in Mumbai by-Outlook,Newsx,Yahoo
Learn the art of crafting captivating promos and commercials that leave a lasting impact. Gain hands-on experience and master the techniques behind successful marketing campaigns.

Unlock your creative potential with our comprehensive education and training programs. Master the art of filmmaking through expert guidance and hands-on experience. Enroll today and start your journey!
On Shoot training programme
First time in India on shoot training programme is introduced by placing dreams . Our students get on shoot training at ad,films and Webseries shoot . They visit post production studio for live experience.
Experience the thrill of live podcasts at Placing Dreams. Join industry experts, filmmakers, and enthusiasts as they share insights, stories, and inspiration. Tune in and be part of the conversation!

Connect with a vibrant community of filmmakers, industry professionals, and passionate enthusiasts. Expand your network, collaborate on projects, & forge lifelong relationships. Join our community today!
Discover an array of valuable resources and state-of-the-art facilities at Placing Dreams. From cutting-edge equipment to dedicated production spaces, we provide the tools you need to bring your visions to life.
Join the Creative
Placingdreams

Best Film Institute in Mumbai: Your Gateway to a Career in Filmmaking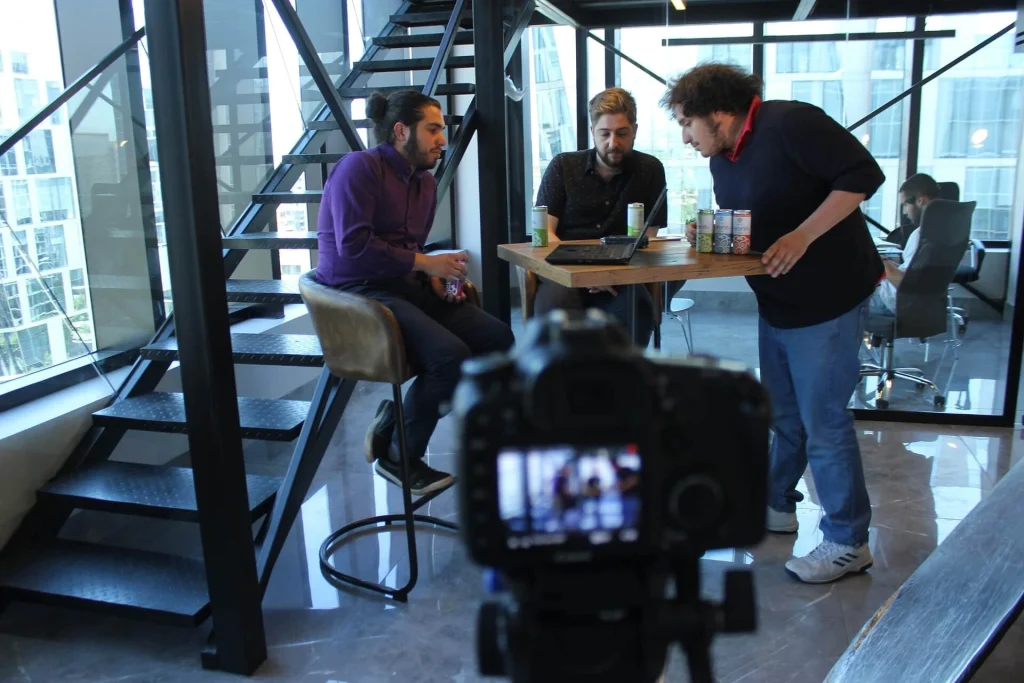 At PlacingDreams the best film institute in Mumbai, we believe that film is one of the most powerful mediums for storytelling and creative expression. That's why we're dedicated to providing aspiring filmmakers with the tools and resources they need to bring their visions to life.
Our film institution offers a wide range of programs and courses designed to help students develop their skills in all aspects of filmmaking, from screenwriting and directing to cinematography and editing. Our experienced faculty includes industry professionals who are passionate about sharing their knowledge and helping students grow as artists.
But education is just the beginning. At PlacingDreams, we also provide students with access to state-of-the-art equipment, production facilities, and industry connections to help them bring their projects to fruition. Our community of filmmakers is supportive and collaborative, providing students with opportunities to network, collaborate, and showcase their work to industry professionals.
Whether you're a recent high school graduate, a seasoned professional looking to expand your skills, or a creative individual looking to explore the world of filmmaking, PlacingDreams the Film Editing Institute in Mumbai is the perfect place to unleash your creativity and achieve your dreams. Contact us today to learn more about our programs and how we can help you bring your vision to life.
Enroll Today and Become the Artist you always dreamt of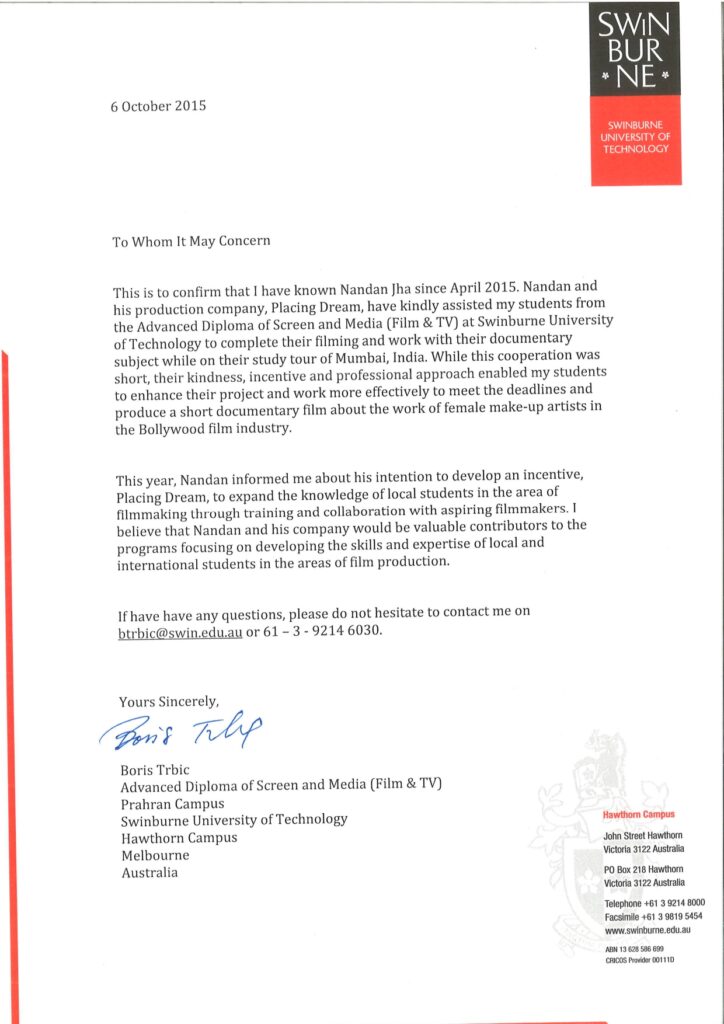 Appreciation letter from Swinburne University Australia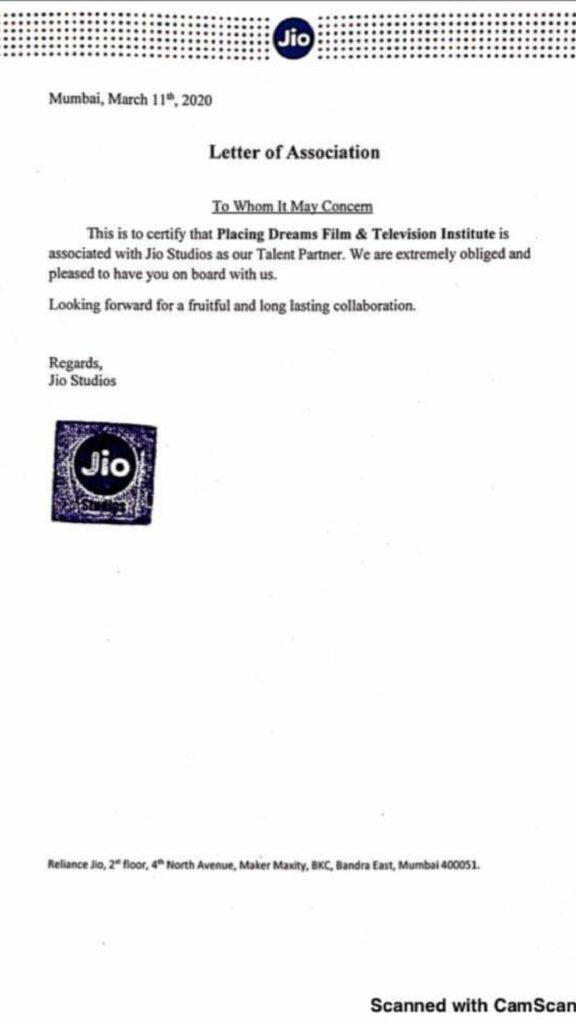 Association with JIO studios
Discover what our talented actors have to say about their transformative journey at
Placing Dreams.

Read our testimonials and be inspired to pursue your dreams.
PRODUCTION HOUSES ADDRESS
➔ Balaji Telefilms Ltd
➔ Yash Raj Films Pvt Ltd (Corporate Office)
➔ Devgan Entertainment & Software Ltd
➔ Satish Kaushik
➔ Pritish Nandy Communications Pvt Ltd
➔ Ashutosh Gowarikar Production Pvt Ltd
➔ Abbas Mastan
➔ Nimbus Communications Ltd
1) Rohim Hembram -Direction -Tseries
2) Sahil Pinjani -Actor-Zee Studio
3) Janardhan Actor Maddock Films
4) Amit Raj Actor Passion film
5) Vikash Vaibhav Production Filmybug
6) Varun Sharma Direction Sapceman film
7) Avadesh Mishra Acting Mangent Film
8) Ayush Jha Direction Zip zap zoom
9) Abhinav Nirala Direction Good Vibes film
10) Avinash Singh Direction Floss interactive LLP
11) Ricky Bhatia Acting Final destination Films
12)Nitesh Singh,​-veera ​(Beyond Dreams)​​Direction​​
13)sumit kumar ​​-Mhadev -life ok -Direction
14)viswash khade​​vani -(mystiq production)​​ -Direction
15)vikalp kumar​​-hatim(trilogy production)​​-Direction
16)Ashish Mishra​​sathiya-(rashmi Sharma)​​-Camera
17)vaibhav shinde​​-sathiya(rashmi Sharma)​​-Direction
18)Vaibhav tamrakar​ -nandini (rashmi Sharma)​​-Direction
19)Anand Shandilya​ -sanskar​​​​-Direction
20)Gunjan kashyap​​-Haunted night(Sahara One) ​-Direction
21)jay Mukharjee​​-Sasural simar ka(rashmi Sharma)-Direction
22)Avery choudhry-uttaran (FilmFarm)​​​-Creative
23)lakhan lal​​-Chidyagahr/(Neela Telefilm)​-Direction
24)kanhaiya kumar​-Chidyaghar-(Neela Telefilm)​Direction
25)Akshay b samnale​-Veera​(Beyond Dreams)​​-Direction
26)vinay vilas chalke-​Hatim(Trilogy)​​​-Direction​
27)Pravin Mali​​shastri -sister (Shakutlam Tele Film)-Direction
28) Jay Modi -life ok-Direction
29) Rohan Upadhyay ​​-ztv(Beyond Dreams)​-Production
30) Subhash Nayaka-Chidyaghar​(Neela teleFilm)​-Direction
31)pravat kumar-channel V​​​​-Editing
32)Pushmitra jha​​ -MTV ​​​​​-Editing
33)Bhawar singh​​ -AD FILMS​​​​-Editing
34)Navin Rai​​​ -WEB SERIES​​​​-Editing
35)Trithankar saha​​-B4U​​​​​-Editing
36)Sagar Jadhav​​-Ad FILMS​​​​-Editing
37)Aakash Kumar​​-B4U​​​​​-Editing
38)Rahul Jha ​​-LIFE OK​​​​-Direction
39)Gaurav gahlyan​​-Eros International ​​​-Camera
40)Abhinav Anand ​-Eros International-web series ,​​​Direction
41)Juhi Jha​​​-Essel World​-Creative associate
42)Naman Nagaich​-soul entertainment ​​-Direction
43)Pravat Jha​​/Balaji Telefilm​​​-Cinematography
44)Ashish Soni​​-Beyond Dreams​​​-Direction
45)Tanmay Gawade​-Rashmi Sharma -Telefilms​​-Direction
46)Rajan Bavaskar​​-Rashmi Sharma Telefilms​​-Direction
47)Pragya Patra​​-Colour Of darkness​-Singing
48)Rahul Mishra​​-savdhan -Editing
49)Nilesh Pal​​-Crime Patrol
​(optimystix)​​-Direction
50) prashant Manpuri ​-Next Entertainment​​-Writing
51) Rajveer Singh​​-Eros International​​​-Production
52)Vikash Jha,​-B4U​​​​​-Editing
53)Nitish Jha​​-Hmari Sister Didi(sony Pal)​-Production​​
54)Risabh Upadhay ​-Eros International ​​​-production
55)Yash​​​ -Eros International​​​-Direction ​&Acting
56) Abhinav Anand​-RGV Production​​​-Production
57)Pijush​​​-Friday Films​​​​-Direction/assisted to Neeraj Pandey
58)Navnitesh​​-Friday Films​​​​Direction-movie – Toilet ek Prem katha
59)Paras Sahu​​-Toilet Ek Prem Katha​​-Still Photography
60)Zaid ​​​Ali-Balaji Telefilms​​​-Direction
61)Sohail​​​ Ali-Web Series ​​​​-Editing
62)Sanyukta Sharma​-Djs Films​​​​-Creative associate
63)Naincy Jaiswal​​-Gaonwala -production​​-Creative assistant
64)Ekta Anand​​-Balaji Telefilms​​​-Creative assistant
65) Ankit – Movie -Direction
66) Amit Mishra -camera-Movies
67) Yogesh Jha – &tv -Direction
68) Vinit Mishra- Hansal Mehta – movie Simran
69) Ankit Mule – Asura webseries- camera assistant
70) Asad Hassan-Prakash Jha Production-Direction
71) Shivam Jha -Acting -Movie Pariksha
72) Jyotsana Chandola-Acting-Saural Simar ka
73)Amit Jha -Gaonwala Production-Production
74)Pawan Singh – Acting – Serial
75) Avery Choudhry-creative associate- Colors serial
76) Priti Singh -Costume assistant – Movies
77)Ujjawal Jha -Direction-Movies
78)Navjot Poddar-Editing-Movies
79)Somya – Direction -Sony Tv
80)Rohit Raj – Direction- Dulhan
81)Sonam Jha-Executive Producer -ZTv
82)Vikash Tiwari -Netflix
83)Amit Kumar -Production -Prime Series
84)Ritesh Patel – Lead Actor -Zee Network
85)Poonam Jha -Actress – Television Show
86)Shivam Choudhary -Lead Actor – Zee Series
87) Chandrahas Pandey – Actor- Web Series
88) Pushpak Aanand -Actor -Web Series
89)Gaurav Jha- Actor -Series
90)Varun Singh -Production -Web Series
91) Pawan Singh -Lead Actor – &Tv Show
92) Mayank Gupta – Assistant Director – Webseries
93) golu Pandey -Production Assistant – Films
94)Pawan Saswat – Assistant Director -Tv Series